For gym owners, an online personal trainer or any other business in the health and fitness industry looking to take their business to the next level, investing in gym SEO is a must. An experienced gym SEO agency can help your gym stand out from the competition by optimizing your gym website, so that potential clients can find you via Google search. Additionally, by utilizing gym SEO experts to manage your social media accounts and craft high-quality blogs targeting specific keywords, you'll be able to influence online conversations and bring more visibility to your gym. In turn, this will help keep existing clients interested as well as attract new clients who may have never known about your gym otherwise. Investing in gym SEO services with the help of a reputable SEO agency, experienced in working with fitness business like your gym, is a smart move for any gym owner who wants to stay competitive and maximize online reach.

Before we get into SEO, we understand that most Gym owners are focused primarily on Social Media.
The benefits of social media are undeniable - it's a great way to interact with your customers, bring brand awareness and create conversations around your product or service. But social media alone cannot guarantee success for your business. SEO should be seen as the backbone to social media presence, as it helps shape and optimize the content, which will generate more organic traffic and leads from social media channels. By having even a basic understanding of SEO principles, such as content marketing and keyword research, you can ensure more effective social media posts and campaigns that have a much better chance of achieving their desired result.
SEO is the process of making your website more visible in search engine results pages (SERPs), which can help you attract more visitors to your site. And, since gyms are highly competitive businesses, it's important to do everything you can to ensure that your site appears as high up in the SERPs as possible. Fortunately, there are a few simple things you can do to improve your gym's SEO. Bakklog is an experienced Gym SEO company and provides Gym SEO services to help support any gym owner's digital marketing efforts. We've helped many online fitness business owners and gym owners in general to generate thousands of new customers over the past 5 years.
1. Use relevant keywords
Keywords are the words and phrases potential customers use when they're searching for a business like yours. When choosing keywords, be sure to focus on keywords that are relevant to your business and that have a high search volume but low competition. You can use keyword research tools like Google AdWords Keyword Planner and Semrush Keyword Magic Tool to find the right keywords for your gym.
Once you've chosen your keywords, use them throughout your site — in the titles of your blog posts, in the text of your pages, in the "alt" tags of your images, etc. The more often you use them, the better! Just be sure not to overdo it; using too many keywords on your site can actually hurt your chances of ranking high in search results.
2. Create quality content.
Once you've chosen your keywords, it's time to start creating content. And, when it comes to SEO, not all content is created equal. To rank well in the SERPs, your content must be relevant, well-written, and informative. It should also be keyword-rich but not stuffed with keywords—aim for a keyword density of around 1-2%.
When creating content make sure to keep this in mind; If you want your gym to show up in local search results, then you need to optimize your website for local SEO. This means adding your business name, address, and phone number (NAP) to your website, as well as creating location-specific pages and adding relevant keywords throughout your site.
3. Make sure your site is mobile-friendly
More and more people are using their smartphones and tablets to access the internet these days—which means it's more important than ever to make sure your site looks good and works well on mobile devices. If it doesn't, you could be missing out on a lot of potential business!
If your website is not set up to accomodate mobile users, we can guarantee that you will miss out on a lot of visitors. When you create your own website, it is therefore important to think about this.
Do you want to make sure that your new website is ready to start ranking high on Google and provides a user friendly experience? Follow our 8 step launch checklist for new websites.
4. Optimize your titles and meta descriptions
Your titles and meta descriptions are important elements of your website's SEO because they appear in the SERPs and help potential customers decide whether or not to click through to your site. When optimizing these elements, be sure to include your chosen keywords—but don't stuff them in!—and make them as user-friendly as possible.
Meta tags are pieces of code in the HTML of your website that determine whether and how your website appears in Google. Two important meta tags for marketers are the meta title and the meta description. There are a number of other meta tags that are also essential for your website, such as meta content type and viewport. It is very likely that your web developer is aware of these meta tags and is well implemented on your website. If not, something is going wrong somewhere and a very short-term conversation is recommended.
Why is a meta title and description important?
It is your presentation in the search results and the first eye-catcher. If the title does not appeal to a user, the chance of a click is very small.

If the title does not match the search intent, the chance of a click will also be small. It is therefore important that you keep control of this yourself by writing a relevant title for a better CTR.

Having an accurate title is important to Google. Google wants to show its users the most relevant results possible. In that case, the title must of course fit in well with the underlying page. Google also looks at the CTR and the dwell time on your website. If your title is clicked a lot, you will rise in the search results. But only if the user is not back in Google within a few seconds and has closed your website. In that case, your dwell time is too short and it is even negative for your position.
5. Build backlinks
Backlinks are links from other websites that point back to yours. They're important because they help improve your website's SEO by increasing its authority—the more backlinks you have pointing to your site, the higher it will rank in the SERPs. There are a few ways you can build backlinks, including guest blogging, directory listings, and social media outreach. Just be sure that the websites you're getting backlinks from are high-quality and relevant to your gym; otherwise, they could actually hurt your SEO rather than help it.
High quality backlinks
Initially, Google counted the number of backlinks to your website. Later, more attention was paid to the quality of the backlinks and less to the quantity. But what is a qualitative link? For that we look at a number of factors, starting with the amount of link juice
Link juice can be seen as the 'leakage of value' from one page to another. Both backlinks and internal links pass SEO value to the pages they link to in the form of link juice that is passed on.
What is link juice?
Backlinks pass on value in the form of link juice. Link juice can be seen as the 'sharing of value' from one page to another. For example, if you place ten links on your homepage, your homepage will leak link juice to the ten underlying pages.
The pages that have the most link juice seeping through will get the most value. This applies to both internal and external links, although external links (backlinks) are much more powerful. So if you get more backlinks to your website than your competitor, you will also get more link juice and get a higher authority yourself.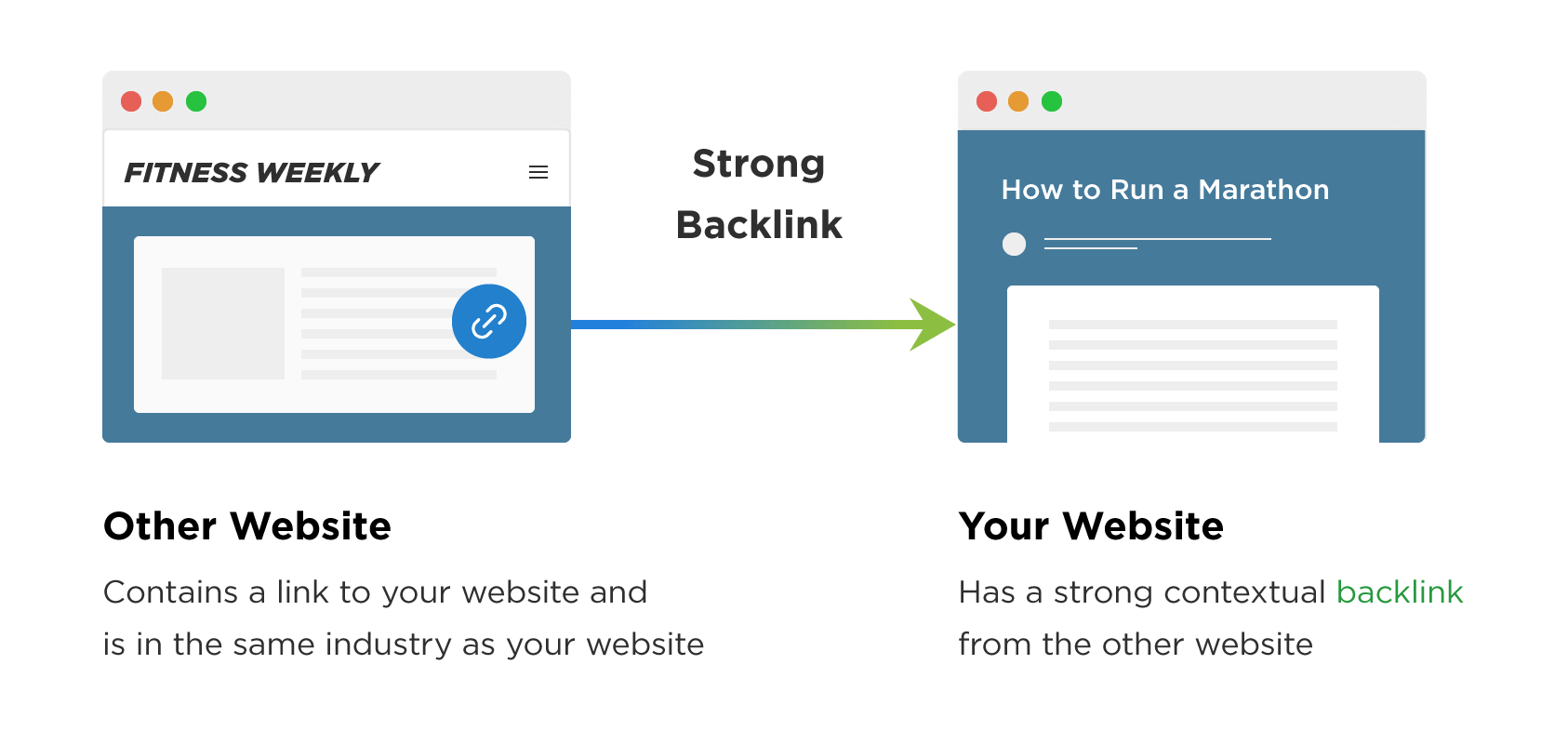 Credits: image by backlinko
6. Monitor your progress
Once you've implemented these SEO strategies, it's important to monitor your progress so you can see how well they're working and make any necessary adjustments along the way. There are a number of tools you can use for this purpose, including Google Analytics and Google Search Console . These tools will help you track things like your website's traffic and search rankings so you can adjust your strategy as needed.
7. Promote your site on social media.
In today's online world, promoting your website on social media is essential if you want to be successful. Not only will this help you to reach a wider audience, but it can also boost your search engine ranking and help your SEO efforts. However, if you're in a competitive industry like the fitness industry, promoting your site on social media can be difficult. That's why it's important to have a strategy. Here are some tips for promoting your fitness website on social media:
- Use relevant hashtags: Hashtags are a great way to get your content seen by more people. When promoting your website on social media, be sure to use relevant hashtags that will reach your target audience. For example, if you're targeting gym owners, use hashtags like #gymowner or #fitnessbusiness.
- Use images and videos: People are more likely to engage with content that includes images or videos. If you want to promote your website on social media, make sure to include eye-catching visuals that will grab attention.
- Share relevant and interesting content: It's important to share content that is relevant to your audience and that they will find interesting. No one wants to read a post that's full of irrelevant fluff. So make sure the content you share is worth reading!
8. Focus on local customers with local SEO
Every gym or fitness studio needs to at the very least set up a Google My Business account. When people search for fitness centers, a personal trainer, or any other local businesses, you typically won't rank for searches with local intent if you don't have any Google My Business profile. A business listing on Google Maps will increase organic traffic, but other than generating more traffic it will also allow you to start getting those positive reviews that help potential members understand why your fitness center or gym is the best option for them.
Make sure you don't forget about optimizing your Google My Business profile by adding the address of your physical location and other related business information such as the website URL and phone number.
Bonus: creating an SEO strategy for fitness studios
If you're a personal trainer or own a fitness website, you know how important it is to be visible online. After all, search engines are the first place most people go when they're looking for health and fitness information. But how do you make sure your site comes up first in the search results? The answer is SEO, or search engine optimization.
There are a few things you can do to optimize your fitness website for search engines. First, make sure you're targeting the right keywords. Think about the terms your potential customers would use when searching for personal trainers or fitness information. Then, include those keywords throughout your site, from the titles of your pages to the text on your individual blog posts. Finally, don't forget to promote your site on social media and other online platforms. The more people who see your site, the more likely it is that search engines will take notice. To make it even easier, here's a short list of things you should optimize;
Meta titles: make sure to include certain keywords in your page titles. Don't ignore other HTML tags such as the meta description or rich snippets.

Focus on targeting keywords, this tells Google your page matches the search intent.

Start working on link building.
By following these tips, you can help ensure that your fitness website gets the exposure it deserves. Ready to start with SEO? Make sure you stay up to date with the latest SEO trends and check out the top SEO trends for 2023. If you wan to get started with a quick win for any website, make sure to continue reading and discover the best link building strategy for 2022 and onwards.
Tip: Accessibility is an important factor to consider when discussing how to best maximize SEO campaigns. Search engine algorithms now heavily rely on and prioritize websites which are accessible to all users, regardless of any disabilities. By having an accessible website design, it makes it easier for search engines – such as Google – to fetch data from and index pages on the website with minimum errors. Ready to learn more about web accessibility? Read our Ultimate Guide to Web Accessibility in 2023.
Conclusion
Where you're a local business, an online personal trailer, just getting started with a personal training business or you've already worked on some search engine optimisation for personal trainers, SEO can make a huge difference. Simply put, fitness SEO or Gym SEO is an important part of any business' online presence, as long as you apply a few best practices! By following these simple tips, you can optimize your gym's website for better visibility in the SERPs, which can help attract new members and retain existing ones. Search engine optimization helps you obtain google rankings, drive more website visitors and potential members, and ultimately offers free traffic. Want to learn more about our SEO services and how we can help you with on page SEO, off page SEO and all other factors that will get your Gym ranking on the first page of Google? Request a free SEO audit and schedule a call with one of our SEO consultants.
Ready to see how to put SEO into practice? Read our article focused on Insurance SEO to see how you can apply SEO to an existing business.