In this article we'll explore what link building is and why it's so beneficial for businesses. We'll look at how link building can help drive traffic to your website, as well as how it can boost your page rankings and improve search engine optimization (SEO). Lastly, I'll provide some tips on how you can start leveraging this strategy today to start gaining links from an authoritative site!
By understanding the fundamentals of link building - what it takes to build links - and implementing them into your own strategy, you will be able to gain a competitive edge over other sites in the same industry. So let's get started by learning about the basics of website links and see just how powerful they can be!
What is link building and how do I generate links?
Link building is like a bridge that connects websites, connecting them to each other and creating an interconnected web of content. This relationship can be the key to success when it comes to your website's SEO. It's a way for search engines to find new pages on your site, helping you rank higher in SERPs and drive more organic traffic.
There are many advantages associated with link building, such as increasing page authority and improving visibility on Google. Linking also helps establish credibility and trustworthiness within the eyes of potential customers. Plus, by providing links from external sources, you demonstrate how well-connected you are online.
So if SEO is something you want for your business, then understanding the benefits of site linking can help take you there. Think about various link building strategies - from guest posting opportunities to competition analysis - that could increase your website's ranking on SERP results. Once these ideas have been implemented into practice, watch as your website starts gaining traction!
How does link building benefit your website?
When you build links, you're massively benefiting your websites ranking and SEO efforts, but you also help search engines find, crawl, and index content on your site. Here are just a few of the ways that it can help you:
Increase visibility in search engine results pages (SERPs). Link building gives your website authority, which in turn makes it easier for people to find your site when they're searching online. This is because links from other websites tell search engine algorithms that you have something valuable to offer their users. Consider it a vouch for your content.

Build trust with customers. When potential customers see that other sites are linking to yours, it builds credibility and establishes authority in the eyes of those visitors. As more people become aware of your brand, more will be willing to engage with your products or services.

Enhance user experience. By making sure that all the internal links work properly, you ensure that users don't get stuck on broken pages or dead ends when navigating through your website. Additionally, this helps give them a better understanding of what kinds of information they'll find useful on each page so they can quickly access what they need without frustration.

Improve website traffic growth rate over time. With improved SERP rankings, increased customer trust levels, and enhanced user experiences all working together; this should lead to steadily growing organic traffic rates over time as long as you continue actively engaging in link building activities and follow popular link building strategies.
When used effectively, link building has massive potential benefits for any website looking to maximize its reach and presence online. When you're linking internal pages, you can ensure that the content and quality of the linking page is high.
Types of links: how to identify link popularity
Whether you're starting a website or trying to optimize an existing one, understanding the benefits of site linking is essential. Site linking helps establish credibility and trust, while also driving traffic to your page. But what exactly is it? Let's dive into different types of site linking that can be beneficial for your website.
First off, there are external links which refer to backlinks from other websites pointing to yours. This type of link building makes it easier for Google to crawl through your content and index it in their system, making it more likely that your page will show up on SERPs (Search Engine Results Pages). Not only does this help with visibility but also gives potential customers assurance by showing them relevant sources citing information about your business.
In addition to external links, internal links should also be taken advantage of when optimizing a website. Internal links direct readers from one page on your website to another related page within the same domain—this not only keeps visitors engaged with relevant content but also increases the amount of time they spend on each page as well as overall session duration. Utilizing appropriate anchor text when you work on internal link building is just as important; using descriptive keywords allows you further optimize pages and improve SEO score.
Site linking has clear advantages for any website – whether it's improving ranking signals, boosting referral traffic or increasing user engagement – implementing both external and internal link structure can do wonders for online success. To make sure you get the most out of link building, invest some time researching quality link opportunities and build relationships with industry-relevant sites that could potentially provide valuable backlinks.
Internal link building
Have you ever wondered how to drive more search traffic to your web pages with each high quality link? Or have you been wondering how you can start acquiring links to your resource pages or blog posts? Internal site linking is one way to do this. But what exactly does that mean and how do I figure out the link's position without the need of an expensive SEO tool?
Most site owners forget about this really easy quick win: you don't need to rely purely on incoming links or focus on competitor backlinks. Instead, you should always look at optimizing internal links first, as it's easy to identify links in your existing content.
Internal link building simply refers to the process of creating links within a website from page-to-page. This means connecting related pages on your own domain in order for visitors and search engines to easily navigate through different parts of the website. By using these types of internal links, it allows users to stay engaged with the content longer as well as increases their chances of exploring other areas of the website. By linking page content throughout your website, you help Google and other search engines better understand your websites content and structure.
In addition, having an effective strategy for internal content structure can also help boost SEO rankings by helping Google bots understand the structure and hierarchy of your webpages. Plus, when done correctly, having links between your pages and content can make it easier for people to find what they're looking for while simultaneously driving them further into the sales funnel.
So if you want more visits and higher conversions rates, setting up proper internal links should be part of your overall digital marketing plan!
Alternative strategies for link building campaigns
Have you ever wondered how external site linking can benefit your website? It may seem like an unnecessary task, but when done properly it can have a major impact. Let's investigate the potential of this powerful link building tool to understand why it should be part of your web strategy.
Let's start by exploring the option to replace links that are no longer relevant or lead to a 404 page. This type of link building is often referred to as broken link building and can help boost visibility for search engines. Additionally, these types of links also offer users an opportunity to discover more content related to their interests from other sources. That said, there are certain risks associated with external sites and caution needs to be taken before initiating any kind of link-building campaign.
Link reclamation is one effective approach when it comes to external linking. Here you identify dead links on other pages that lead back to old versions of your own website/pages or third party domains and replace them with updated rules without compromising on quality standards. The benefits go beyond just better SEO rankings – they include improved user experience and customer satisfaction too! All things considered, engaging in expertly executed external linking campaigns while adhering to best practices will pay off in the long run, helping your website stand out amongst competitors and build trust among users alike.
Strategies to attract links to more pages
Did you know that only 4% of websites have optimized their link building strategies? That means there are plenty of opportunities to get ahead of the competition and start utilizing site linking to drive more traffic. It's an effective way to build your website's visibility, so let's discuss a few strategies for how to do it right.
When it comes to building links, quality is key. You'll want to focus on high-quality websites with good authority in order to gain maximum benefit from the link. Choose relevant sites that provide value or something unique that can help improve user experience when they visit your website. Make sure you also create content that will help increase visibility and bring people back again and again.
Link building tactics such as guest blogging, social media promotion, press releases, influencer outreach, SEO techniques like keyword targeting and optimizing webpages for search engine ranking are all great ways to connect with other websites and form relationships with them. Plus these methods don't require any additional costs - just time and effort! So if you're looking for a cost-effective way to boost your website performance then this could be exactly what you need. Another way to obtain more backlinks is by creating a high quality blog post for topics that relate to your business or it's industry.
Having a sound strategy in place can make a huge difference when trying to maximize the benefits of external site linking, so take some time now to figure out which tactics work best for you and start obtaining more backlinks to earn higher search rankings.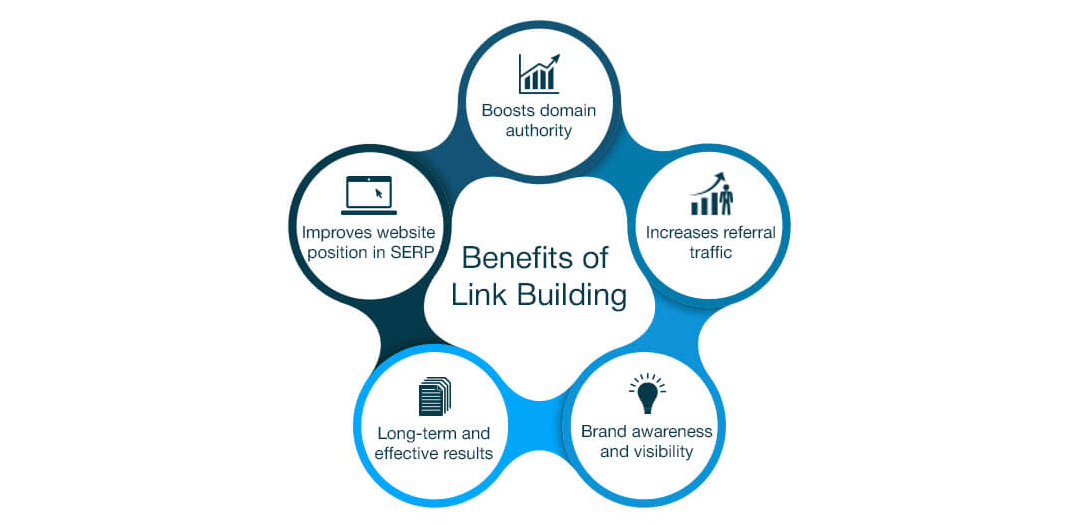 Enhancing user experience through high quality links
Sometimes, when it comes to website optimization, we can feel like an ant struggling against a massive boulder. We know that site linking is important for success, but understanding how to effectively utilize link building work and keyword research can be daunting.
We've all seen those websites: the ones with so many broken links they make you want to throw your phone across the room. However, if done correctly, site linking has the power to transform user experience into something beautiful! Think of it as taking a derelict house and turning it into a dream home – this is what effective link building work and keyword research can do for you.
Link reclamation is another great way to improve both SEO rankings and user experience by redirecting users from old or outdated URLs to new pages on your website. This ensures that no matter where visitors land on your page, their journey will be seamless and enjoyable. By investing time in finding broken links and updating them with relevant content, you'll reap the rewards of improved user engagement which in turn boosts organic search performance.
Creating a network of quality sites with link building for SEO
When it comes to building links, creating a network of quality sites is key. Quality links are essential for driving traffic to your website and increasing your visibility across the web. By building connections with external websites through backlinks, you can create an interconnected network that's sure to get noticed by users and search engines alike.
Having high-quality backlinks from reputable sources will benefit your website in several ways. Not only does this help establish credibility for your site, but it also provides another source of incoming traffic when someone clicks on one of the links on other websites that you don't own. Additionally, having quality backlinks helps boost your ranking in various search engine results pages (SERPs). This means that more people will be able to find and access your content with ease—ultimately providing better user experience overall.
So if you want to ensure success for your website, setting up a strong system of linked websites is a great way forward. Doing so not only increases the reach of your online presence but also boosts its quality and reliability – all while enhancing user experience!
Increasing website traffic after you build links
Did you know that link building is one of the most effective strategies for increasing website traffic? Just by creating a network of quality sites through site linking, you can see an average of 77% increase in organic search engine rankings. Site linking has become increasingly popular among webmasters and it's easy to understand why: when done correctly, it offers great rewards!
When it comes to increasing website traffic through site linking, there are a few key things to keep in mind:
Link Building Strategies: These include creating backlinks from other relevant websites or directories, as well as engaging in outreach campaigns to build relationships with influencers who will be willing to share your content.

Resource Page: A resource page provides valuable information about a certain topic, which makes it easier for people to find what they're looking for on your website. By adding links between different pages within your own website and others, you create more opportunities for visitors to navigate around your site and explore more content.

Link Reclamation: This involves finding broken or outdated links on external websites and replacing them with updated ones that point back at your own resources. This helps improve SEO score by providing fresh new links pointing towards your site.
By implementing these three key elements into the way you approach site linking, you'll be able to significantly boost your website's visibility – all while driving more targeted leads directly to your sales funnel. You'll also benefit from increased brand awareness and trustworthiness among consumers. So don't miss out - start taking advantage of the benefits offered bysite linking today, and work with an expert in link building Miami, FL.
Improving content navigation through site linking
As a site owner, you know that link building strategies can help improve your website's organic search engine rankings. One way to do this is by using site linking for content navigation and structure. This approach has many benefits that can really take your website to the next level and it's one of the most effective ways to gain improvements quickly.
Site linking allows you to connect pages on your website in order to create an effective user experience. Your visitors will be able to navigate quickly and easily between related pieces of content, allowing them access to more information without ever leaving your site. In addition, it helps search crawlers understand how the various parts of your website are connected and thus make sure they get indexed correctly.
Building links also creates opportunities for link reclamation when other websites link back to yours - improving visibility both internally and externally. When done right, this type of linking should support multiple goals at once: enhanced user experience, better indexation from search crawlers, and improved chances of gaining valuable external links. Ultimately, utilizing site linking as part of an overall SEO strategy could help boost your website traffic significantly!
Enhancing brand awareness through site linking
Did you know that linking between internal pages can boost your website's visibility by up to 34%? It's true! By using site linking, or interlinking webpages on the same domain, we're able to enhance brand awareness and drive more traffic. We do this by strategically utilising anchor text - also known as link reclamation - which allows us to connect readers with relevant content.
So how does it work? Firstly, start by creating link worthy content – pieces of writing that are easily shareable and offer valuable insight into the subject matter. This could be in the form of an article, blog post or even a video. Once these pages have been created, use words within them to refer back to other related topics (anchor texts) on your website; this will help search engine bots index pages correctly and improve user experience.
It's important to remember that too many links can make a webpage seem cluttered and unorganised so keep it simple but effective. Site linking done right has plenty of advantages for business owners: increased engagement levels from users, improved SEO rankings and better overall navigation around your website. Plus, if done properly, it can significantly increase website traffic over time!
Security considerations for a linked page
Site linking is a great way to increase your website's visibility and reach, but it's important to be aware of the potential security considerations. When done right, site linking can give you an edge that helps set your brand apart; however if not properly managed, it can leave you vulnerable to broken links or worse. So let's take a look at what steps you should consider taking when utilizing this powerful tool.
Let's start with link attributes – these are pieces of code that tell Google how they should interpret the link on your own site as well as externally linked sites. This can help ensure that all links point in the correct direction and also give you control over how those pages will appear in search results. By understanding which attributes apply to each page, you'll stand a better chance of avoiding broken URLs and other issues related to external pages.
Finally, always keep an eye on any changes made by external websites: things like redirects or changes in content could have unexpected consequences for your own website so make sure that you're checking up regularly. That may sound daunting but there are plenty of tools available online to help automate the process and alert you whenever something goes wrong - just one more step towards making sure that your site-linking efforts pay off!
Common mistakes to avoid when site linking
When it comes to site linking, one statistic that reveals the importance of this practice is that nearly 60% of websites contain at least one broken link which affects their search engine rankings. Site linking isn't as simple as creating a few links and expecting your website to benefit from them. There are common mistakes you should avoid in order to make sure your efforts pay off:
Not researching link building strategies: You need to understand what types of links will help drive traffic and be beneficial for SEO purposes before you start building up links. It's important to use various tactics such as guest posting or influencer marketing for effective results.

Buying low-quality links: While buying links can save time, if not done correctly it could harm your website's credibility instead of improving it. Links should always come from legitimate sources and with relevant content so they don't get marked as spam by Google algorithms.

Ignoring internal linking: Internal linking helps both users and the Google crawlers navigate through your website more easily. This increases user engagement on the page and also builds trust with Google, boosting overall ranking potential.
It is crucial to keep these points in mind when setting up site linking for your website, particularly keywords like 'broken link', 'link building strategies' and 'buying links'. Doing this ensures maximum visibility online while protecting against any negative implications linked with incorrect practices.
Best practices for site linking
Link building is a crucial element of any website's search engine optimization strategy. It can open up new avenues for your site to be found and attract valuable links from other sites - if done correctly. To make sure you're doing it right, here are some best practices for site linking that will give you the edge over your competitors.
Like a jigsaw puzzle, quality links need to fit together perfectly in order to really benefit your website in the long run. That means making sure that all the links point back to relevant pages on your own site as well as external sites. By creating an interconnected web of high-quality links, you'll strengthen not only your SEO rankings but also bring more credibility and trustworthiness to your domain.
When looking into link building strategies, there are several common approaches such as guest blogging or broken link building which may work well depending on the industry that you're targeting. However, before embarking on any particular plan it's important to understand what sort of impact each approach could have on the overall success of your link building campaign so that you don't waste time and resources down the road. Taking these steps now will help ensure that you get maximum ROI from every effort put forth towards link building efforts in the future and keep users coming back again and again.
All in all, using smart tactics when it comes to link building can pay off big time; by taking advantage of existing opportunities like quality links and working hard to create relationships with other websites through common link building strategies, you'll find yourself reaping rewards sooner than later! You can start with some easy to obtain links through forum posts, but we recommend you also take the time to look at your biggest competitors to analyze their backlink profile. This will help you understand why they outrank you on Google, and where to build links, what linking page needs some extra content or keyword research, as well as where you should focus your energy and resources to get a guest post published. Having a guest post is a great way to build links to a web page.
Conclusion
Site linking can be a great way to enhance the usability and presence of your website. It helps site owners provide a better user experience for visitors, increases brand awareness and provides opportunities for search engine optimization (SEO). Although there are some security considerations involved when it comes to site linking, with proper implementation you can ensure that your website is secure while taking advantage of all the benefits associated with site linking.
I know what you're thinking - "I need a full guide to link building or this won't work!" But don't let this dissuade you; setting up more links on your website doesn't have to take an eternity, and not all links need to come from other prominent websites. With careful planning and execution, you can easily create effective link structures that will benefit both your website as well as its users. All it takes is a little bit of time and effort to craft an efficient system that works best for your needs.
If you paid close attention, you have probably noticed that we have a link embedded into the content every now and then as it's much easier to find and more likely to get clicks than a link buried in our footer.
By understanding how site linking impacts SEO and overall website performance, businesses can make informed decisions about their online strategies to increase their online visibility and revenue. This knowledge gives them the power to maximize their visibility in the digital space, allowing them to reach more potential customers than ever before. So if you're looking for ways to boost your online presence without breaking the bank, consider investing in quality site linking today.
Do you need more help with SEO? Bakklog is one of South Florida's best rated SEO agency, so go ahead and book a free SEO strategy call!
TIP: Whatever you do, make sure you avoid spammy link building techniques. This will always get you penalized and recovering from a Google penalty requires significant time and resources.