If your business has gotten this far without a website, you may be wondering: do I need a website for my business? What's the point if my business is already successful without a website?
The short answer is, there's never been a better or more important time to invest in a website for your business. A website offers a wide variety of benefits to small businesses, and most of these benefits increase in value exponentially year after year, just like the internet itself.
Not convinced? We've rounded up ten of the biggest benefits your business can enjoy even with a well-built yet simple website.
Ten reasons why you need a website for your business
1. A website makes you look professional
84% of today's consumers think a website makes your business more credible than companies that only have social media profiles. Your website is also the perfect place to show off any professional certifications or awards your company has.
In addition, your own website allows you to create your branded email address (e.g., [email protected]) that will add a level of professionalism to all your correspondence, especially if you have used a personal email address to do business until now.
2. Your website can attract new customers through Google
You may be happy with the current size of your business, but every business experiences customer revenue. To drive continued success, you need to attract new customers. One of the best ways to do this is to make your business visible on Google.
A well-optimised website can help your business rank well for various search terms and attract a steady stream of new customers. There are several free SEO tools that make it easy to optimise your website without any prior training.
3. You can clearly highlight your products and services
You can show potential clients what they get when they work with you by posting beautiful and professional photos on your website. Watch how the Dutch startup Linsta has achieved this on their website: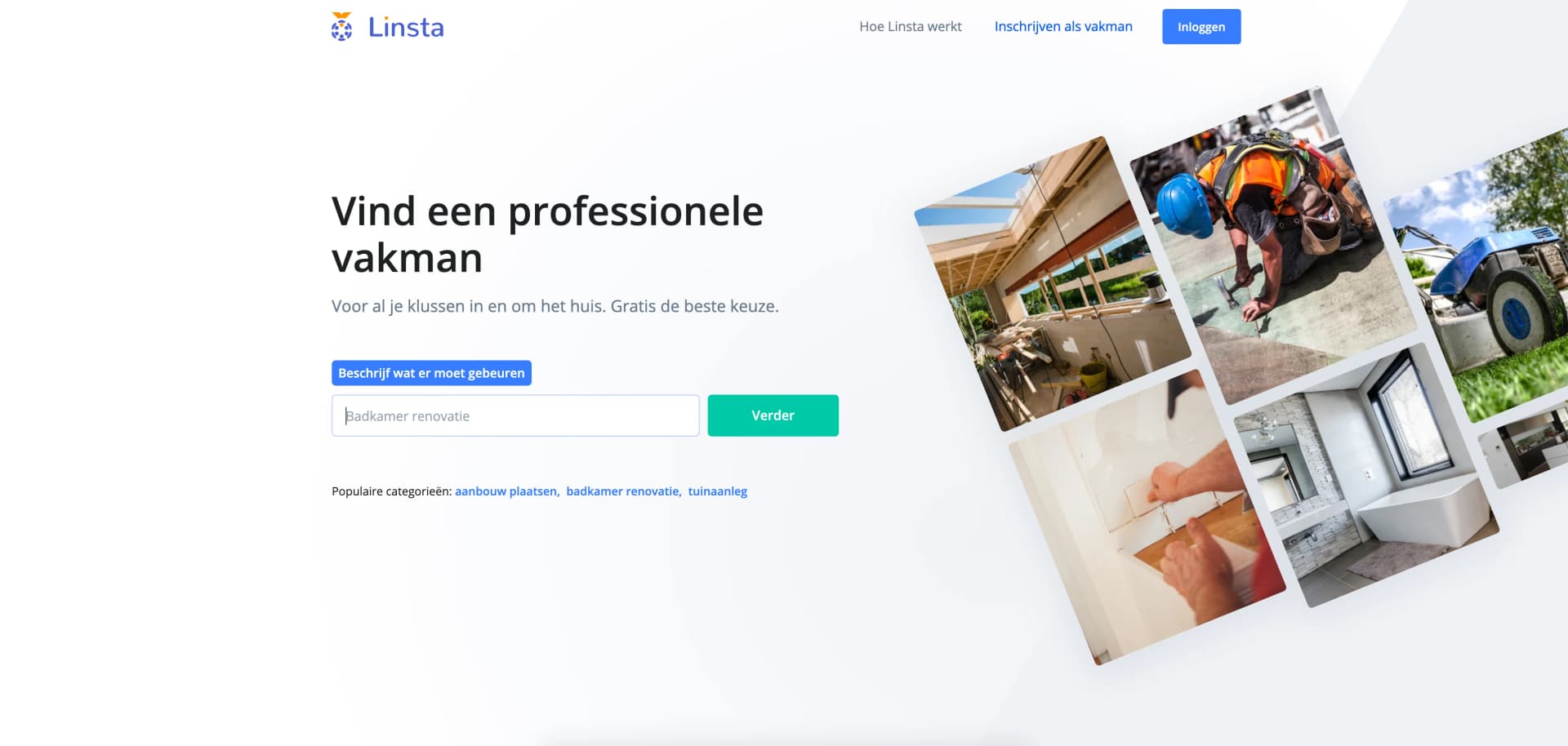 You can also use your website design along with the featured images to give people an idea of ​​what it feels like to enter the physical location. This works especially well if your brand is closely tied to the "feel" of the location.
Another thing you can do is put important information about your products and services on your website to make sure you attract the right customers. For example, if you run a restaurant, you may want to mark items on the menu that are gluten-free so that people with celiac disease or other conditions that make gluten dangerous know they can eat at your restaurant.
4. You can prominently display the best reviews on your website
Displaying your best reviews prominently on your website is a great way to gain some social proof. Good reviews on your website also ensure a higher conversion rate. More than 95% of consumers read reviews on local business websites before making a purchase decision. Many good reviews of course create more confidence, so don't wait too long with this.
5. A website can encourage customers to contact you
A website is a great place to make your contact information easily available to potential customers. You can even publish the contact information in a header or footer so that it appears on every single page. With this you can, for example, make your phone number directly available so that people can easily reach you.
6. Your website establishes your place within the industry
If your competitors aren't online yet, they probably will be soon. Establish yourself as a leader in your field by being one of the first to design and build a high-quality website.
If your competitors are online, you have another option: you can have a website built that is completely different from the competitors' sites, and show potential customers why and what sets your company apart. Do not forget that this cheap website from € 500 to € 1000 is often based on an existing template and is totally not distinctive.
7. A website is no longer intimidating to manage
A custom website is not intimidating. With a solution such as Storyblok, we enable our customers to assemble a page themselves using components. Where necessary, we help with a short training or we put together a custom component based on your specific wishes. This allows you to change the texts and images, add blocks and expand pages yourself at any time. Of course we can also do this completely for you so that you can concentrate on your business.
8. A website ensures your long-term success
By 2022, nearly 4.54 billion people (59% of the world's population) will use the internet, and more and more people are going online.
Without a website, your company is invisible to these people. As we move further into the digital age, unless you invest in a website, your business will become invisible to everyone.
So to stay competitive in this increasingly digital world, your business needs to go online.
So, do I need a website for my business? The final verdict
Hopefully by now you realise that the question is not "do I need a website for my business", but "can I afford not to have a website in the digital age". And the answer, if you want to keep growing and thriving in the long run, is no. A website is one of the best investments any business can make in their future.