A good website requires a significant financial investment. If you're not willing to invest in your business, just stop reading right away. If you understand that a website is a critical investment that helps you grow your business, continue reading.
When you decide your business is worth the investment, and you've decided to put a decent investment towards a website, that does not mean you should spend your entire budget on any random web design agency. In this article, you will find an extensive checklist that you can use to decide how and by whom you want to have your website built.
Are you trying to have a professional website built? Pay attention to these details!
We will talk about: the purpose of your website, the cost of a website, how long it takes to design and build a website, user-friendliness, SEO, WordPress, mobile optimization, and maintenance of your website. But feel free to scroll through if certain topics interest you more than others.
17x what you should pay attention to for a professional website
Who is this article for? (ambitious SMEs)

What is the purpose of your website?

What do we mean with a professional website?

When should you use a WordPress website?

A Search Engine Optimized website (SEO)

Provide a response and mobile-friendly website

Building a fast website is becoming increasingly important

A secure website ensures trust (HTTPS)

Customized website or a standard package?

Which elements ensure a good website design?

What makes a good project briefing for a web design agency?

How do you calculate the costs of a professional website?

What does the maintenance of your website cost?

How long does it take to have a website built?

How do you recognize a bad web designer?

How do you rate a web design agency?

Conclusion: pay attention to these details before you have your website built.
Who is this article for? (ambitious SMEs)
The truth is, we can't please everyone. We wrote this article with our customers in mind. These are usually ambitious small and medium-sized companies (SMEs) or startups.
What is the purpose of your website?
Before building a website, it is smart to formulate clear goals. For yourself, this way you'll know where you want to go and whether it is worth the investment. But also for the web design agency, you'll end up working with: with a clear goal, they know better how to implement technical solutions.
Here's an example of some goals when creating a new website:
Become more visible to potential customers in your area.

Have existing visitors contact you more frequently.

Sell products or services directly on your website.

Reaching a new target audience with a different design.

Better inform visitors, to save your customer service a lot of time and/or ensure higher customer satisfaction.

Convince prospects with a professional online presence.

Increase the quality of your leads.

Attract new talented employees.

Spend less time tracking your site and it's performance.
And we could go on like this forever.
Try to formulate the main goals for your website SMART.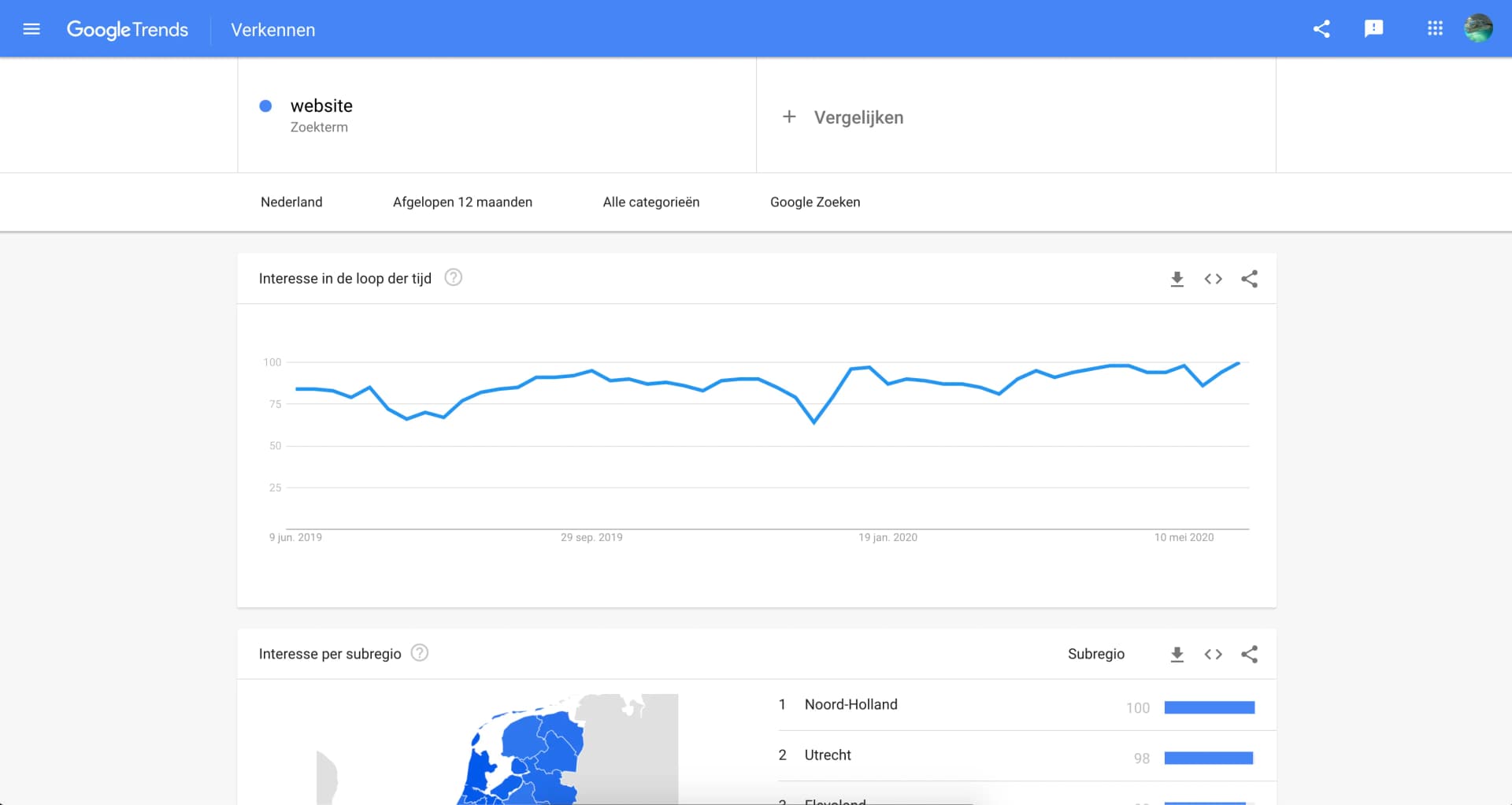 What do we mean by a "professional website"?
When you decide it's time to get a (new) website for your business or startup can also hire students to build your website cheap. Or your nephew, who is "pretty good with computers". If necessary, you could even consider doing it yourself as most of the information is readily available on the internet.
But with a homemade or student-made website, you as an ambitious entrepreneur will quickly run into the following problems:
The website loads very slowly, which chases visitors away.

A plugin freezes and you don't know how to fix it.

Your website looks great on your computer, but not on any mobile device such as a smartphone or tablet.

Your website looks very similar to other websites.

The planned delivery time is not met (because well... exams).
Your "free website" or your "website for only $199,-" will indirectly cost you a lot more then you'd realize. Do the math yourself; how much does a lost customer opportunity cost you?
By a professional website, we mean a website designed and built by professionals. A professional website should be developed by a company that has been developing websites for at least five years and therefore knows the best practices. Later in this article, we will dive deeper into the question of how to recognize a great web designer/web design agency.
When should you use a WordPress website?
There are an awful lot of systems for creating websites.
For hobbyists and freelancers, a simple website builder such as Wix or SquareSpace will suffice.
Multinationals and governments regularly want a custom built systems, websites, and applications. Solutions that has been developed specifically for their use-case (and therefore are also quite expensive to develop and update).
Ambitious entrepreneurs and marketers in SMEs often use WordPress to build their websites. This content management system (CMS) is now used by almost a third of all websites in the world, and it definitely has it's use-cases. At Bakklog we use Nuxt as our frontend-framework, combined with flexibility of Storyblok for content management.
Why don't we use WordPress? Because we prefer to offer blazing-fast custom solutions at affordable prices. Your website will be future proof and ready to take on your competitors with it's super fast loading times.
WordPress websites often look the same as they are built on top of pre-purchased templates from marketplaces such as themeforest - so it's up to you to decide wether or not you want to stand out.
A search engine optimized website (SEO)
How many people directly type in the URL of your website? As you can imagine there's not as many unless you're a big brand.
They are much more likely to google your company name, or perhaps use a vague description ("webdesign new york city"). Search engine optimization (SEO) is therefore vital for many companies. They gain existing and new customers through search engine marketing.
A professionally built website does not immediately ensure that you rank very high in Google. If it were that easy, everyone would be ranking for top positions!
To gain ranking in Google, you need to do more than have a fast and slick website built by a webdesign agency; you'll also have to deal with things like search engine marketing and link building. Learn more about link building here.
Nevertheless, by having your website made by professionals, you do lay a foundation for your findability in Google. Among other things, a good site structure, loading speed and mobile optimization contribute to a higher position.
Provide a responsive mobile-friendly website
Over half of website visits in the United States are now on a smartphone or tablet; a percentage that is still rising. That's why you want your website to look good on any device. Ask your webdesign agency for a responsive design.
But what if most site visitors in your industry still use a desktop computer or laptop? Then a mobile-friendly site is still of great importance!
Because the percentage of visitors on other devices can increase.

Because Google uses it as an important signal in determining your position in the search results.
Building a fast website is becoming increasingly important
Nobody wants to wait for a website to finish loading for more than a few seconds. You can easily test how fast your site loads now with tools like Pingdom, GT Metrix and Google's own PageSpeed. You can also test a few of the websites built by your webdesign agency of choice with these tools.
What makes a fast site?
An important component of your site speed is web hosting. At Bakklog we use Microsoft Azure as our cloud solution to help organisations of all sizes enable digital-growth. You can learn more about our solutions at the Microsoft Partner Page.
But it also matters, for example, if you compress images, don't have too many plugins enabled, and use caching. A great solution is Cloudinary; with Cloudinary, you can easily upload images and videos to the cloud and automate smart manipulations of those media.without installing any other software.
A secure website (HTTPS) ensures trust
Have you ever noticed the lock next to the name of a website?

This means that you contact the website via a secure HTTPS connection. Without an HTTPS certificate, your website will suffer from ranking penalties in Google too, which makes HTTPS and an SSL certificate a no-brainer.
An HTTPS connection is also absolutely necessary for e-commerce websites or other sites where visitors provide sensitive details.
Do you already have a website, without an SSL certificate? Keep in mind that transferring a lot of existing content to a new website using HTTPS is a labor intensive job. You should however make sure that you select to work with a web design agency that has experience in using SSL ceritficates.
Customized website or a standard package?
Do you know why some websites can be "designed" so cheaply? Because they use a ready-made templates.
For someone without technical skills or agency insights, a standard WordPress template most of the times looks pretty nice. But keep in mind that there are a thousand other sites similar to yours. Your competitor can buy the same theme on websites such as themeforest.net - moreover, with a standard design you have very limited space for design changes or extra functionalities.
A customized website is therefore usually preferred.
Which elements ensure a good website design?
A beautiful design is practically invisible. That is exactly why it doesn't make much sense to incorporate a lot of crazy bells and whistles when designing a website.
Instead of thinking "I also want a video background like my competitor" Or "A slider seems cool to me." You should start from the core purpose of a page. That is, for example, "buying a product" or "requesting more information". When the user thoughtlessly takes the correct information and clicks on the call-to-action (intended action), you have a well designed website. This sounds easier than it actually is.
Good design is therefore all about balance. A website needs to assert a certain calmness, by using sufficient white space. This ensures an optimal user experience on every possible device.
Are you curious how user-friendly your current website is? Consult with our experts and let us do a usability test.
What makes a good project briefing for a web design agency?
It would be a shame if you spend a lot of time looking for a web design agency but then provide a poor briefing of your project. After all, the better the definition of the scope of your project, the more likely the website is to suit your needs.
So what kind of details should you provide in your RFP (request for proposal)?
First of all, tell enough about yourself. What kind of company are you? What does your company stand for? What is unique about your brand?
After you describe these details, you should dive into the previously mentioned goals of your website. Describe this as clearly as possible.
Don't have a (digital) styleguide yet? Then it is good to think carefully about what you want your brand to express. You can try to put that into words, but sometimes a picture is worth a thousand words. Consider creating a mood board or find websites that you really like to use as example for the webdesign agency you end up working with.
Furthermore, it is of course important to clearly describe which pages you want to have created and why.
How do you calculate the costs of a professional website?
Unfortunately, many webdesign agencies are rather vague about the costs. They advertise with attractive "starting from" prices, but the total amount appears to be many times higher when you receive your first invoice.
It is important to always make clear agreements about:
How many pages you want on your website.

How many different layouts you want to design.

Whether a multilingual website is included.

Whether a newsletter module is included.

What the monthly recurring hosting costs are.
What does the maintenance of your website cost?
A website with an integrated Content Management System requires maintenance. Web technology changes are so fast that updates within the CMS are required. Think of plugins that are improved and updated. Updates related to improving the loading time of the website. Or technical developments that have to do with maintaining the security of your website. In addition, at Bakklog we always like to continue to advise our customers, implement their possible new wishes accurately and quickly and keep communication informal.
A maintenance contract ensures that:
Your website and the CMS are continuously updated to the latest techniques.

You can always approach us for questions and/or advice during business hours.

Your website is protected against hackers and spammers.
A website is not a static product that requires a one-time investment and can be left untouched for the next 5 years. Your website needs regular updates in order to keep it working optimally in the future.
Larger, complex changes within the website or the addition of new functionalities are typically not a part of this service contract. These are implemented on the basis of a clearly customized price proposal that get communicated in advance.
How long does it take to have a website built?
Be suspicious of agencies that can build and design a website "in a day". It will then be nothing more than a standard design picked from a template provider for under $20. They'll install the theme, some basic plugins, and deliver it to you without any consideration for your mission, your branding or your business goals.
Having a new professional website developed will at least take you several weeks to months. At Bakklog you typically have a first version within two weeks and the final one in a month and a half.
How do you recognize a bad web designer?
By their website.
Serious. If the website of a web agency, freelancer or design agency is not quite working properly, then you don't even have to bother contacting them.
Another good detail: how detailed is the proposal? Does it specify exactly which activities are performed? This will allow you to make a better comparison between different agencies.
How do you rate a web design agency?
A bad website directly disqualifies any agency. But does that also mean the opposite? That a slick website means that you are dealing with a reliable party?
Not directly. A company can very well create websites for itself, but not necessarily for its customers.
Therefore, always check out the portfolio sites, but more importantly, the customer reviews. Are there any available on an external website such as Clutch.co, Google or Facebook?
Finally: in this article we have dealt fairly loosely with the terms web designer, website builder, web design agency...
In Google, companies often search for webdesign agency, while they are actually looking for a full-service web agency. A partner who can not only create your website, but also ensure that you rank in Google search results through content marketing, link building and/or Ads.
Conclusion: pay attention to these details before you have your website built.
Hopefully you now have a better understanding of what to look for if you want to have a professional website built for your business.
As an ambitious SME you set goals that you want to achieve with your website before having a site built by professionals.

A fast website matters, that's why nowadays you'll want to avoid WordPress if you're willing to make the investment.

In any case, your website must be discoverable in Google, look good on any device, and send data securely.

A tailor-made design gives your business distinctive character, although you don't actually see good design because it works so intuitively.

Provide a detailed project briefing so that your web agency can send a detailed quote with included maintenance costs.

Having a professional website made is a process of at least a few weeks and sometimes a few months.

Bad web design agencies can be recognized by their portfolio and amateur looking website, use external reviews to judge.