Holidu vacation rentals platform
Start-up growth: within 2 years from 0 to 35K visitors per month
During the launch of Holidu on the Dutch market, Bakklog was approached to structurally improve organic findability in Google. After 2 years, Holidu is firmly on page 1 and they compete with large parties such as Booking.com
From 0 to 35K visitors per month
65K new keywords on Google
1750 keywords in the top 3
Services
Search Engine Optimization (SEO
SEO copywriting
Outsource link building
Customer
The challenge
Conquering the Dutch market with a new domain
To compete with well-known vacation rental platforms such as Airbnb and Booking.com, Holidu decided to implement a comprehensive SEO strategy. The goal was clear: to conquer the market and strengthen their position as a leading platform for holiday home booking.
Before Holidu approached us, they had a completely new domain for the Dutch market and we started from scratch. This became a tough job, because the competitors are also actively working on SEO.
This case study gives you a detailed insight into the steps we have taken to help Holidu increase their online visibility. From link building to content rewriting and website optimization, discover how our collaboration led to market dominance within two years.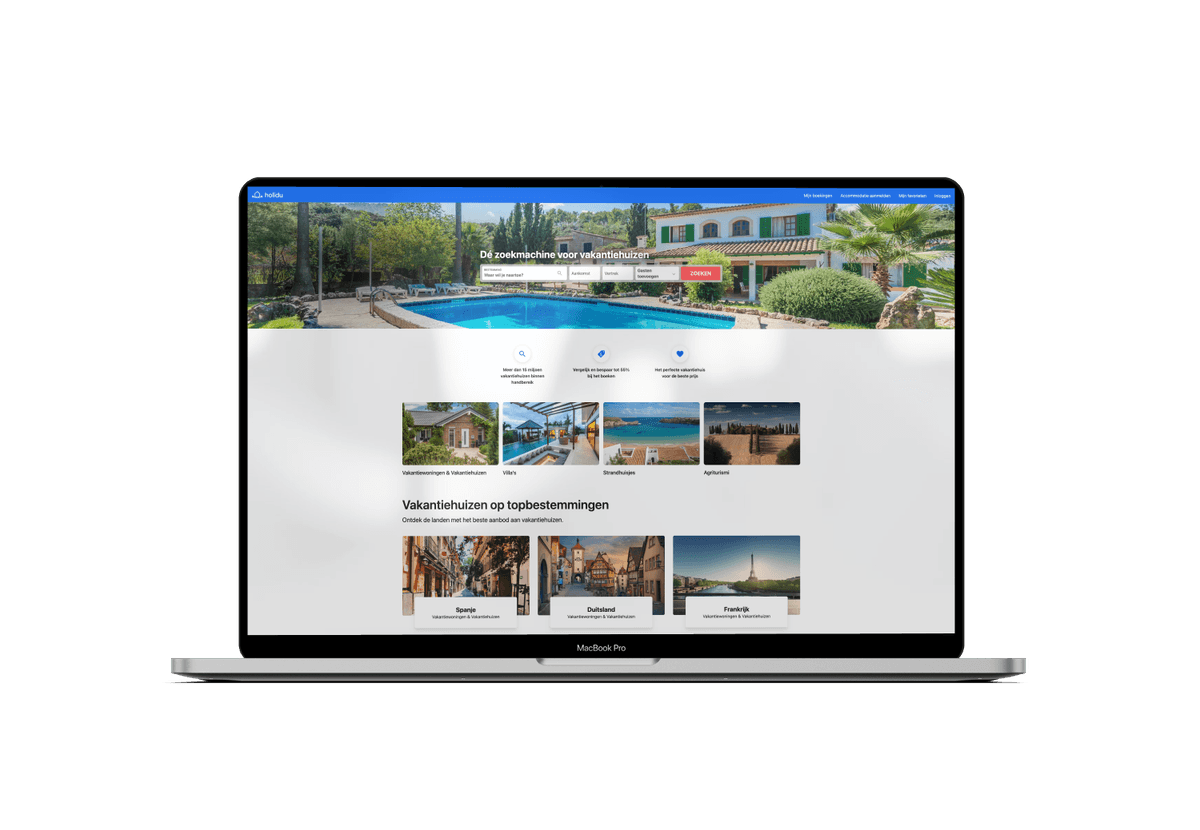 Our approach
1
Immediately a strong focus on keyword research
At the start of the project, we immediately started looking at the existing pages, rankings and the backlink profile of the existing domain names and the competition.
A strong competitive analysis is especially important in the Travel industry, because almost all major parties are actively working (and with large teams) on search engine optimization.
After the audit, we created an SEO strategy and roadmap that initially focused on answering queries that asked specific questions (e.g. targeting long-tail keywords). With this roadmap we have been able to rank more than 60K keywords on Google within 2 years.
2
On-page search engine optimization
From launch, there has been a strong focus on user generated content, such as reviews and photos, to provide valuable travel information to visitors around properties and their surroundings.
By encouraging hosts to write extensive copy and share photos, we were able to quickly increase the amount of content on this website, helping to improve SEO and keyword count.
3
Creating new content
New content has been written for the search terms from the keyword research on which the website did not yet rank.
By putting 15 to 20 new pages live every month, the website has attracted more and more interesting keywords.
The focus was on what would be popular in the coming season because historical data was available from neighboring countries such as Germany.
In addition, we looked at the conversions from the blog pages and our development team gave advice during the start-up phase.
4
Improve the authority of the website
A major challenge in achieving the objectives was their new website. Although the website looked reliable and fresh, the website still had little authority. This was because the website was new. Characteristic of a new domain is that the new content on the website is less likely to get a good place in Google. To change this, we started a link building process.
An important part of the link building process was writing SEO texts to place on partner websites. This active link-swap strategy quickly resulted in great success and an extreme increase in organic traffic.
The fourth step in the process towards greater online findability for 'holiday homes' and 'holiday home rentals' also included entering into partnerships with websites that post blogs about holidays. These websites offered a good platform to place the content of 'holiday homes on the coast'. These external links quickly led to growth. Link building was therefore a very important step in the success of their online findability.
Result
From 0 to over 35K monthly visitors!
new keywords on Google (using user generated content)

+68K

keywords in the top 10 after 2 years of search engine optimization

7562

monthly organic visitors through Google

35K
Start with search engine optimization (SEO)? Marc is happy to help you with all your questions!