Leadinfo
Discover which companies are visiting your website and unlock the potential of your B2B sales funnel! With this knowledge, you can generate high-quality leads and outpace your competition. Don't miss out on the opportunity to take your sales to the next level!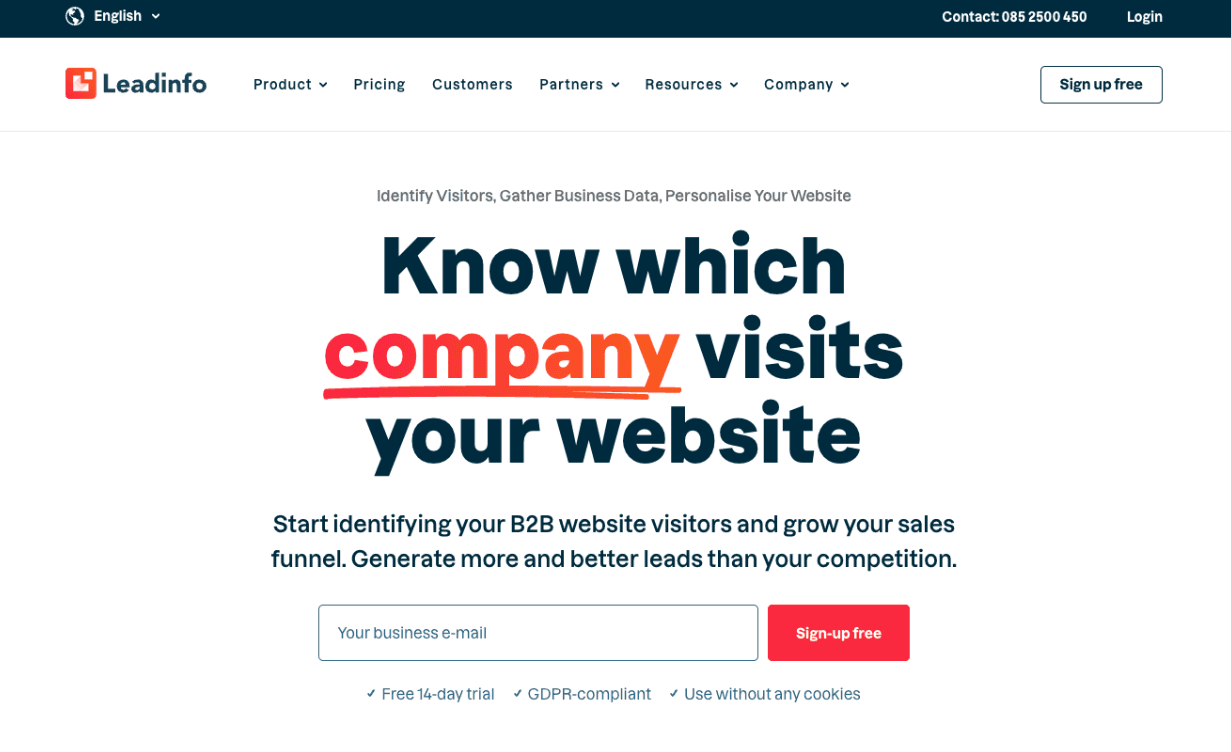 Let's revolutionize your lead generation process!
Are you struggling to identify high-quality leads for your business? Say goodbye to the frustration and hello to Leadinfo! With their cutting-edge technology, you gain valuable insights into your website visitors and their behavior, enabling you to recognize the most promising leads for your business. By setting up triggers and labels, you can receive real-time Slack notifications when a visitor from a specific industry or location of interest to your company visits your pricing page. Plus, with Leadinfo's detailed analysis of visitor behavior on your website, you can optimize your Google Ads campaigns and generate even more leads! Don't waste any more time sifting through countless low-quality leads.
A clear overview of your B2B visitors - just like your inbox
Unlock the full potential of your website and take your business to new heights with Leadinfo! Our platform provides you with a comprehensive overview of every business that visits your site, all in a layout that's easy to navigate and understand - just like your email inbox.
Say goodbye to complicated statistics and hello to a user-friendly interface that integrates seamlessly with your favorite tools and CRM. With Leadinfo, you can access all the data you need to create targeted marketing campaigns, nurture leads, and close more deals.
Don't settle for incomplete information and missed opportunities. Trust Leadinfo to be your partner in B2B lead generation and help you grow your business. Contact us today to see how we can help you turn website visitors into loyal customers.
Feature overview
Leadinfo is packed with features, and we'd be happy to show you more during a quick product demo. But in the meantime, here are some features our customers love.
GDPR proof
Leadinfo is GDPR proof, meaning that the platform is compliant with the European Union's General Data Protection Regulation. This ensures that Leadinfo's data handling processes align with the GDPR's requirements for protecting the privacy of personal information.
Lead gen forms
Leadinfo's lead gen forms are a powerful tool for businesses to capture valuable lead data. These forms can be embedded on any website and enable you to collect visitor information. With Leadinfo's lead gen forms, you can convert B2B website visitors into potential customers.
Free 14 day trial
Leadinfo offers a free 14-day trial for businesses to experience the platform's features and benefits. During the trial period, businesses can access all of Leadinfo's tools, including lead tracking, lead gen forms, and website analytics. To start a free trial, contact us.
Intuitive dashboard
Leadinfo's dashboard provides businesses with a clear and concise overview of their lead data. The dashboard displays real-time information such as the number of website visitors, the pages they viewed, and their contact information. The dashboard's user-friendly design makes it easy for businesses to navigate and access important insights.
Automated lead scores
Leadinfo's automated lead scoring feature helps businesses prioritize their leads based on their level of engagement and interest. The platform uses machine learning algorithms to analyze lead behavior and assign a score that indicates their likelihood to convert, so you can focus on the leads that are more likely to convert.
Easy to integrate
Leadinfo's integration process is designed to be quick and easy for businesses. The platform integrates seamlessly with popular CRM and marketing automation tools, allowing businesses to streamline their lead management process. With Leadinfo's easy integration, businesses can effortlessly transfer lead data to their existing tools and workflows.
Frequently Asked Questions (FAQ)
What is Leadinfo and what does it offer?
Leadinfo is a lead generation and sales intelligence tool that helps businesses identify the companies that visit their website and provides them with detailed company information, contact details, and insights to help them turn those leads into customers.
How does Leadinfo track website visitors?
Leadinfo uses a proprietary tracking code that is installed on your website to monitor the behavior of your website visitors. This code captures data such as the visitor's IP address, company name, location, and pages viewed.
Is Leadinfo GDPR compliant?
Yes, Leadinfo is fully GDPR compliant and takes the privacy and security of its users' data very seriously. The company provides users with full control over their data and adheres to all GDPR regulations.
How can Leadinfo help me improve my sales process?
Leadinfo provides users with detailed insights into the companies that visit their website, including their contact details, location, and behavior. This information can help sales teams to target their outreach efforts more effectively, improve their lead nurturing processes, and close more deals.
How much does Leadinfo cost?
Leadinfo prices are based on the number of unique leads they recognise on your website per month. We can set you up with a free 14 day trial so you can get an accurate estimate as to which tier you fall into and what best suits your needs.
Can Leadinfo integrate with other software tools?
Yes, Leadinfo can integrate with a wide range of software tools including CRMs, marketing automation platforms, and sales tools such as Salesforce, Hubspot, Pipedrive, and more. Let us know if you have a specific integration that you're using and we can explore the options.
Ready to start identifying your B2B leads?
Fill in your details and we will contact you within 2 working days to discuss the possibilities.
Do you have more challenges? Let us know in the comments field, we are happy to think along with you!